X
Concert Review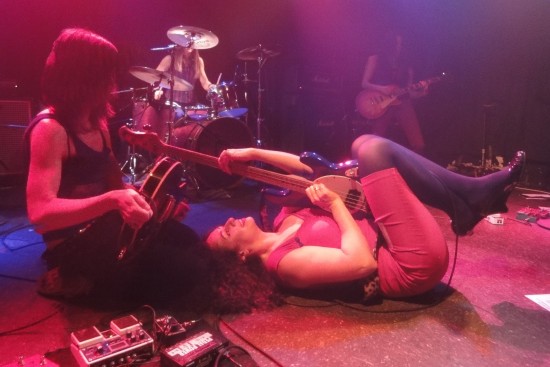 The Wanton Looks
February 14, 2012 @ Double Door
Zo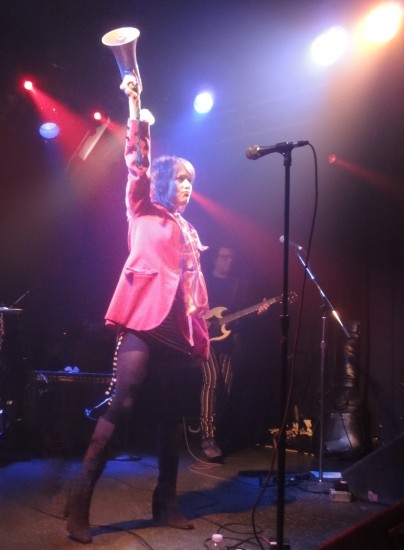 The Handcuffs
February 14, 2012 @ Double Door
Zo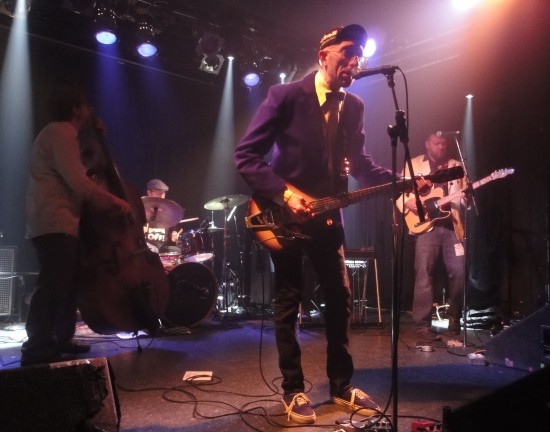 The Siderunners
February 14, 2012 @ Double Door
X 
B
y Dave Miller
X 
Watching the Grammys could leave a casual music consumer to conclude that rock and roll is nearly dead. Between the bookend performances of aging greats Bruce Springsteen and Paul McCartney, three hours featured plenty of music that neither rocked nor rolled, with the debatable exception of the Foo Fighters, who I find to be generic.
X
Thankfully, rock and roll was found to be alive and well two days later at the Valentine's Day Rock n' Roll Prom Tuesday at Double Door. A crowded bill of five local bands delivered one quick set after another, packing a punch in rapid fashion like an old soul revue.
X
Like a healthy number of paying customers who dressed up for the occasion, Wanton Looks fearless frontwoman Traci Trouble got in the spirit of the event by donning a stunning red dress. However, the dress was forced to take a back seat to the performance of Trouble and her band. The Wanton Looks had no trouble transferring their music from their dive-bar gigs to the rock club. Trouble filled the venue with her larger-than-life personality, Meg Thomas pounded the drums with panache, and guitarists Inga Olson and Susie Q looked born to rock.
X 
A performance comes alive when it lives in the moment where anything can happen next, and that's where Trouble resides and keeps her band. You don't know what she's going to do or say next, and she's a big reason why the Wanton Looks make most bands boring by comparison. Her verbal riffs can be as entertaining as the music. Despite the fact that the show was being streamed live online, enabling Susie Q's mother to watch the band for the first time, Trouble cut loose with raunchy talk that would make Lisa Lampanelli blush. The message was clear. She doesn't censor herself for anyone. Such freedom is exhilarating to watch onstage. She talked about being barred from Double Door after club personnel took a vote on it, and sharply noted that nobody stuck up for her. Then the band launched in a glorious version of "86 Me," written about getting kicked out of the club, and it ended with Trouble on her knees, playing with her head back and bass pointed ahead in blissful triumph.
X
A little tension can be good for a performance and Trouble surely can stir the pot. The aptly-named singer ambled onstage with her bandmates ready to go like they were waiting in the gate at the Kentucky Derby. As Trouble's soundchecking and commentary continued, Olson grew impatient and fired a barb at the bassist. "We have five minutes left to play," Olson said, irritated. But then the band kicked into "See You Again " and showed it's more than just talk. And Trouble knows it as much as anyone. At one point, she moved her microphone stand aside to put Thomas and her masterful drumming in the spotlight. Trouble's heels that went with the dress got her into trouble when she fell (let's see you rock in heels) and her bass became unhinged from her strap, but she did not become unhinged, continuing undaunted. The other times she spent on the floor came naturally as she lost herself in the band's wallop. Trouble is one of the last of rock's true believers. What other lead singer do you see in front of the stage for opening bands, bobbing and snapping pictures. When Trouble takes the stage she is fond of pushing the performance to the edge. She knows that's where it's most thrilling. Afterward, Thomas said the set felt different, and she meant in a good way. It was a night where the Wanton Looks continued their ascent.  
X
Wanton Looks setlist:
X 
See You Again
Get Thru To You
86 Me
All I Want Is You
This Night Alone
Electromagnetic Force
Neverending
X
Start: 11:03 p.m./Finish: 11:41 p.m.
Totals: 7 songs, 38 minutes
X
The Handcuffs do not need a special occasion to dress up. Drummer Brad Elvis and his wife, singer Chloe Orwell, along with guitarist Ellis Clark, bassist Emily Togni and keyboardist Alison Hinderliter bring it, from their playing to their wardrobe. They're a stylish band that looks as good as its glam pop-punk sounds.
X
What's great about seeing the Handcuffs, Elvis and Orwell in particular, is how they so obviously revel in playing rock and roll. They're not too cool to have fun. Their vibe is infectious. Orwell fully invests herself into the role of lead singer. She sang with commanding attitude and worked the stage whether she was wielding a microphone, guitar, tambourine or megaphone. Meanwhile, Elvis played the drums with child-like excitement from his trademark move of vertically balancing a drumstick in one hand while playing to signaling with his sticks like he's directing airplanes to pretending to brush his teeth with a stick. He's a one-man sitcom behind the kit in the style of Keith Moon, and backs it up with big beats.
X 
Of course, none of that would matter if the Handcuffs didn't have good songs to play. They showcased their hook-filled, latest album, Waiting For The Robot. Four of the six songs played came from it, though the highlight of the set was "Sex and Violins," a low and slow selection from their 2008 debut, Model For A Revolution. The song had the effect of a drug taking effect. They closed on a high note with "Dirty Glitter" with Orwell tossing in lines from "I Just Wanna' Be Free, Man."
X
Handcuffs setlist:
X
Come On Venus
Miss You On Tuesday
Kiss This Goodbye
Sex And Violins
Somebody Somewhere
Dirty Glitter
X
Start: 10:21 p.m./Finish: 10:44 p.m.
Totals: 6 songs, 23 minutes
X
The Siderunners closed the night with their high-octane mixture of country and punk. They scorched the stage and, tellingly, got some of the remaining die-hard rockers to dance. They left people wanting more after their half-hour set ended in the midnight hour. Lead singer and guitarist Sappy Defiler sheepishly explained his group already played past its allotted time as his band unplugged its gear.
X 
Earlier in the night, Vee Sonnets' namesake trio, the Sonnets, celebrated the release of its self-titled album. Sonnets displayed his wide variety of rock influences, anchoring the songs with his rich-timbered voice and guitar. Ellie Maybe, who took the prom theme to the extreme by dressing like what best can be described as a zombie clown, contributed thick bass lines as drummer Addison Monroe cracked off sharp hits.
X
I missed the opening set by the Demerits, but Trouble raved about them. That's a more rocking endorsement than a Grammy.
X

The Wanton LooksFebruary 14, 2012 @ Double Door

X

The Wanton LooksFebruary 14, 2012 @ Double DoorZo   The Wanton LooksFebruary 14, 2012 @ Double DoorX  The Wanton LooksFebruary 14, 2012 @ Double DoorZo   The Wanton LooksFebruary 14, 2012 @ Double Door

Z

  The Wanton LooksFebruary 14, 2012 @ Double Door

Zo 

  The Wanton LooksFebruary 14, 2012 @ Double Door

X

The Wanton LooksFebruary 14, 2012 @ Double DoorXThe Wanton LooksFebruary 14, 2012 @ Double DoorXXThe Wanton Looks February 14, 2012 @ Double Door The Wanton Looks February 14, 2012 @ Double DoorX The Wanton LooksFebruary 14, 2012 @ Double Door

X

The HandcuffsFebruary 14, 2012 @ Double DoorXThe HandcuffsFebruary 14, 2012 @ Double DoorXThe HandcuffsFebruary 14, 2012 @ Double DoorThe HandcuffsFebruary 14, 2012 @ Double DoorXThe HandcuffsFebruary 14, 2012 @ Double DoorXThe HandcuffsFebruary 14, 2012 @ Double DoorX