Top Concerts of 2017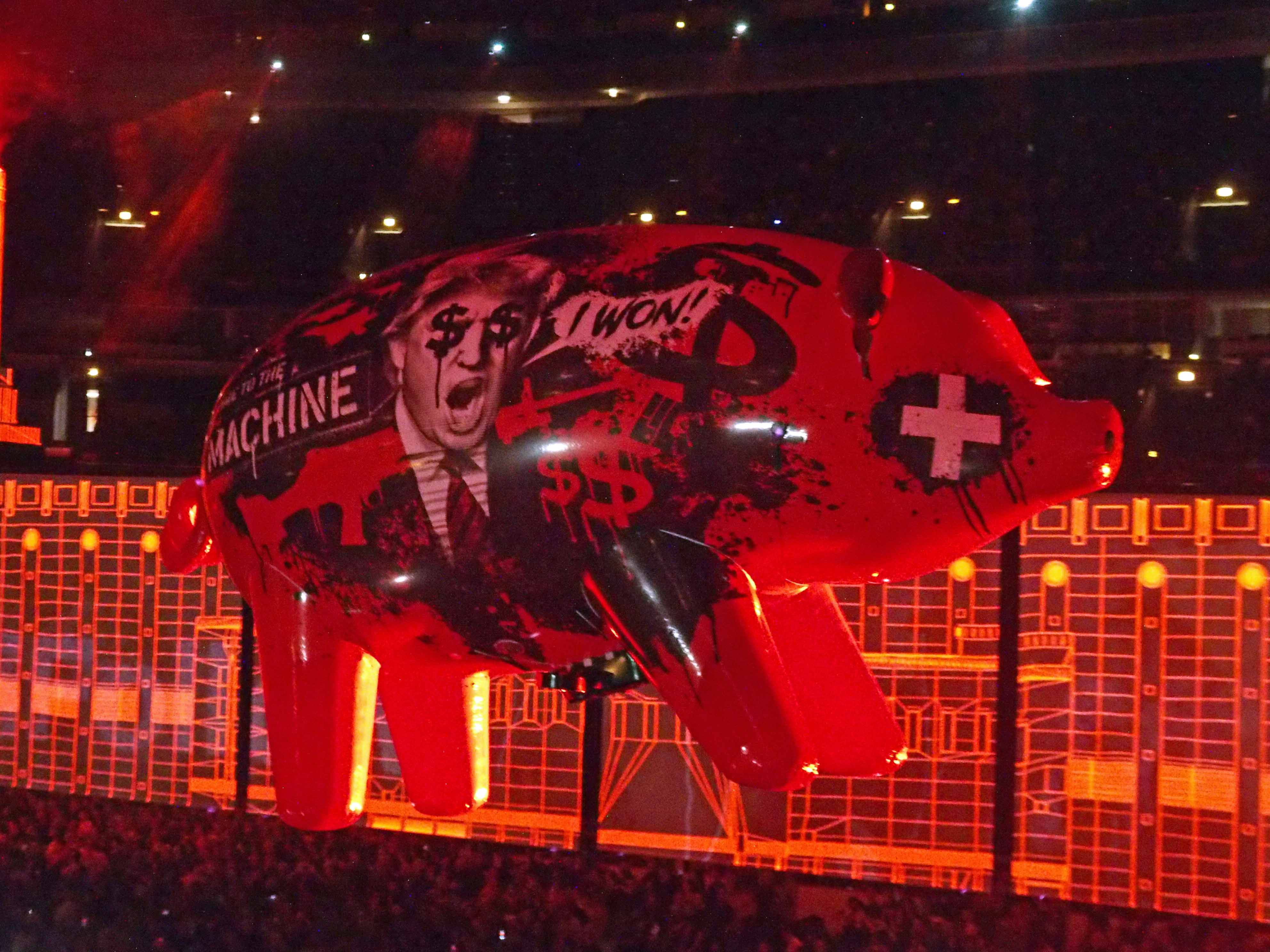 Roger Waters  
July 28, 2017 @ United Center  

By Dave Miller
What a dizzying, disorientating year for our country's ideals. While music thankfully provided an escape, it also energized The Resistance to our dangerous, demented and dumb president and his administration of deplorable grifters. The year saw many musicians doing what they could to defend our democracy against autocracy and authoritarianism. A concert was as likely to remind you what's happening in our country as it was to allow you to forget about it for a couple hours. Both approaches worked in capable hands. I saw more than 50 full sets in 2017. Here's my ranking of the best -- dedicated to departed favorites Chuck Berry, Tom Petty, Charles Bradley and Jessi Zazu:
1. Roger Waters, July 28 at United Center - The veteran resister uses the potent Pink Floyd arsenal and some devastating new songs to reduce Trump to a laughingstock. For all of the show's attacks and spectacle, the performance is ultimately about love.
2. U2, June 3 at Soldier Field - While the world's political shift to the extreme right causes the Irishmen to pause between their two new albums to celebrate the 30th anniversary of The Joshua Tree, they avoid nostalgia and combat the rise in hate by reminding America it is an idea of inclusiveness, all against the dazzling backdrop of the biggest screen in concert history.
3. Little Steven and The Disciples of Soul, Oct. 8 at House of Blues - Steve Van Zandt becomes his own boss once again, releasing his first solo album in 18 years and realizes his goal of greatness with an original soul sound by way of the Jersey shore lifted to higher ground by a 15-piece band.
4. M.I.A., Sept. 17 at Riot Fest, Douglas Park - Making her first Chicago appearance in four years, the British rapper and activist of Sri Lankan Tamil origin wastes no time delivering a message. She comes out swinging with "Borders" and spends the next hour delivering a slamming hip-hop party, all against the repressive backdrop of giant steel bars. The uplifting set closes with a group on onlookers, including Pussy Riot's Nadya Tolokno, spilling onto the stage to dance to the irresistible beats.
5. Arcade Fire, Oct. 30 at United Center - The disco on their new album, Everything Now, forces one to chose sides, but the sonic explorers duke it out for the affirmative from a boxing-ring stage. Arcade Fire earns points for trying something new while reminding it remains one of its generation's greatest live acts.
6. Amy Rigby, Aug. 26 at Bucktown Arts Fest - A songwriter presents killer songs with just herself and a guitar -- what a concept! The arresting performance on a lovely late-summer afternoon whets the appetite for her upcoming album, her first solo one in 13 years.
7. Vic Mensa, Sept. 15 at Riot Fest, Douglas Park - When the crowd insists for many minutes on a rare festival encore, the hometown rapper eventually obliges with a raging repeat of "16 Shots." The song about police killing Laquan McDonald is made even more poignant by Mensa announcing a friend who was supposed to join him was stopped by the police on the way to the show.
8. Willie Nile, March 17 at SPACE - The indefatigable and inspirational New York city rocker and his brothers-in-arms band loosen up the seated venue to such an extent that an older fan is spotted thrusting his crutch triumphantly into the air.
9. Barb Wire Dolls, July 7 at Vans Warped Tour, Hollywood Casino Amphitheatre - In the hot sun on a stage set on a slab of asphalt, the punk road warriors raise the temperature even more with a blistering set of no-nonsense, in-your-face rock. 
10. Tiger Sex, Dec. 15 at Liar's Club - On the verge of releasing its first record, the Cincinnati-based trio continues to burn up each stage it takes fueled by prowling singer Kelly Chelston and slashing guitarist Kei HaTan. When clubgoers demand an encore, Chelston winds up on top of the bar, doing Iggy proud on "I Wanna Be Your Dog."
Honorable mention (in order): The Regrettes, Sept. 16 at Riot Fest, Douglas Park; Chuck Prophet and The Mission Express, Aug. 4 at FitzGerald's; Brian Wilson, Oct. 6 at Rosemont Theatre; Peaches, Sept. 9, Riot Fest, Douglas Park; The Orwells, Sept. 14 at House of Vans; Svetlanas, Oct. 25 at Cobra Lounge; Le Butcherettes, March 31 at Cobra Lounge; Cathy Richardson Band, Feb. 3 at FitzGerald's; Anti-Flag, July 7 at Vans Warped Tour, Hollywood Casino Amphitheatre; The Handcuffs, Aug. 16 at Live Wire; Courtney Barnett + Kurt Vile (and the Sea Lice), Oct. 27 at Thalia Hall; Michelle Malone Band, Sept. 10 at SPACE; Laura Stevenson, April 21 at BrauerHouse; and Statues of Liberty, Jan. 6 at Reggies.