Top Concerts of 2016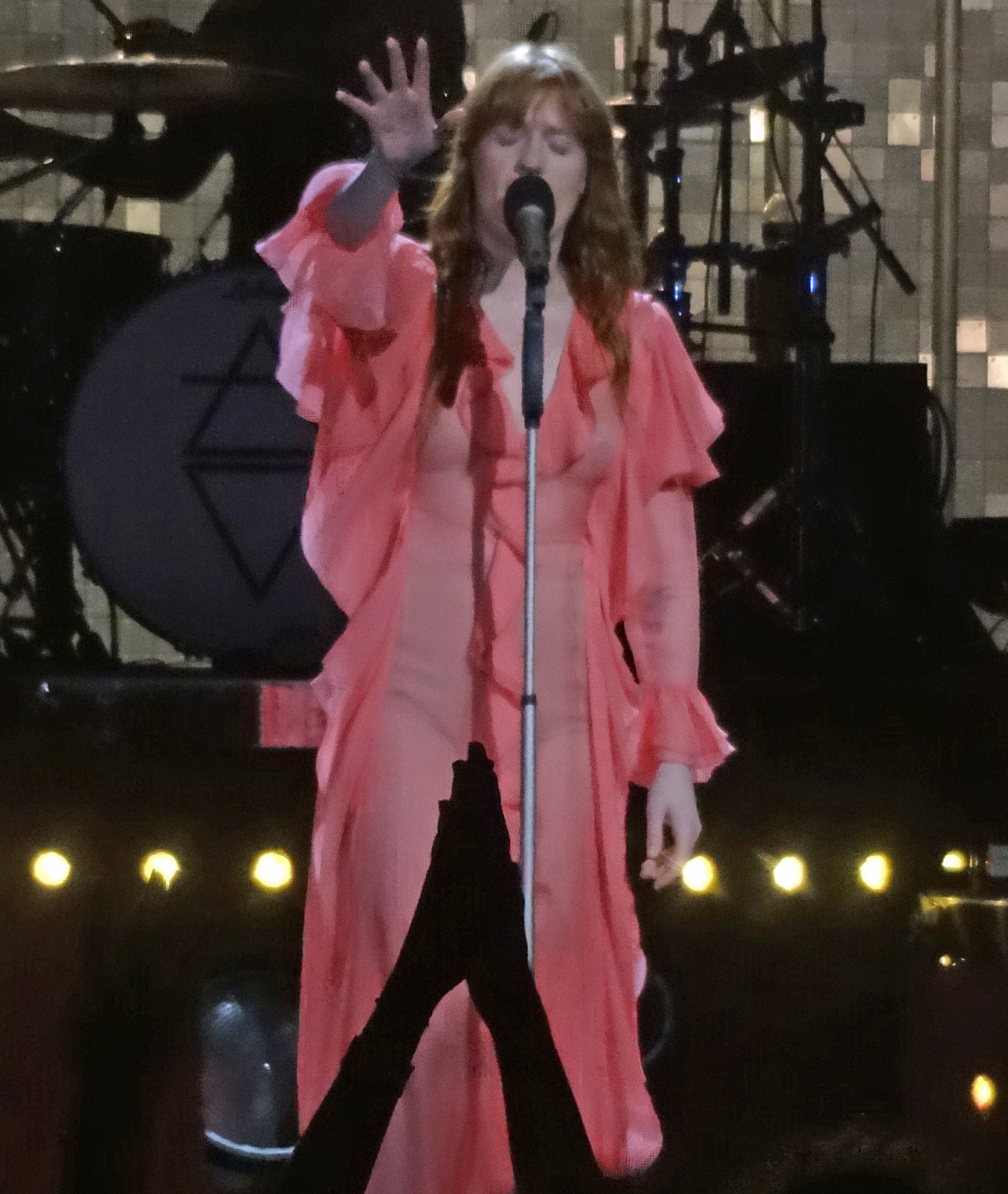 Florence + the Machine  
June 12, 2016 @ Hollywood Casino Amphitheatre  

By Dave Miller
It was a tough year for music, and otherwise. Each death in a seemingly relentless list of those who departed -- including David Bowie, Prince, Glenn Fry, Leonard Cohen and George Michael -- served a reminder to value our time and not take anything for granted. Concerts continued to make me feel alive. However, as the year grew late, my compass went haywire when the country elected a dangerous joke as president. Well, the Electoral College did, but that's another story. Music came to the rescue when back-to-back shows by punk true believers Barb Wire Dolls shook me out of my numbness and allowed me to regain my bearings, then Patti Smith put my soul back on track and gave it an inspirational shove toward the future. I saw more than 60 full sets in 2016. Here's my ranking of the best:
1. Florence + the Machine, June 12 at Hollywood Casino Amphitheatre - Florence Welch uses her incredible voice and open heart to rise to the occasion in the wake of the Orlando nightclub killings earlier in the day. Her love leads a shaken audience into a pitch-perfect celebration of life.
2. Patti Smith, Dec. 30 at Riviera Theatre - Punk's godmother and poet returns to her city of birth to celebrate her 70th birthday with an electric performance filled with joy, defiance and inspiration.
3. Bruce Springsteen and the E Street Band, Jan. 19 at United Center - The Boss turns back the clock with a convincing airing of one of rock's greatest double albums, The River, and an astoundingly physical, rocking performance that lasts well past three hours.
4. Courtney Barnett, April 28 at Riviera Theatre - With dizzying wordplay tossed off amidst a guitar assault, the 28-year-old receives toe-to-toe support from her two bandmates and makes clear she's an artist for the long haul.
5. Jon Dee Graham, July 2 at FitzGerald's American Music Festival - The gruffy teddy bear enters a Zen zone with strong new material, some aces in the hole and tributes to Prince and Muhammed Ali in front of an appreciate audience that helps lift the set into spiritual territory.
6. Tiger Sex, Feb. 19 at Liar's Club - Lead singer Kelly Chelston throws a glass against a mirror on the side of the stage, picks up a shard of glass and cuts herself, which bloodies her impossibly short white dress, and later throws guys off her stage like a bouncer -- but those weren't the wildest moments of the night. She halts the moshing mayhem in the middle of the set to pay tribute to Chicago with a blues number.
7. Iggy Pop, April 6 at Chicago Theatre - Showing no interest in resting on his Stooges legacy, one of the greatest frontmen in history puts on a mesmerizing show carried by new material backed by a lively band led by Queens of the Stone Age guitarist Josh Homme. Pop doesn't let the comforts of the stately theater stop him from diving into the crowd and prowling through the place.
8. Prophets of Rage, Sept. 3 at Hollywood Casino Amphitheatre - A superhero group headed by raging guitarist Tom Morello and calls-it-like-he-sees-it rapper Chuck D drops a protest bomb during election season.
9. Lucinda Williams, Dec. 31 at SPACE - After experiencing difficulties to varying degrees in the first three shows of the stand, Williams gains confidence after a successful start and the show takes flight and soars. An encore-opening cover of Sam Cooke's "A Change is Gonna Come" with hands together in prayer provides a determined antidote for what's to come in our country. At show's end, Williams calls it the best New Year's Eve of her life. 
10. Willie Nile, July 2 at FitzGerald's American Music Festival - The New York rocker and his dynamite band continue their ascent of recent years and unleash the power and glory of pure rock and roll, rendering the holiday weekend's fireworks superfluous.
Honorable mention (in order): Barb Wire Dolls, Nov. 21 at Brauerhouse; Gwen Stefani, Aug. 6 at Hollywood Casino Amphitheatre; Public Enemy, Aug. 5 at Hollywood Casino Amphitheatre; Juliette Lewis & The Licks, Sept. 18 at Douglas Park, Riot Fest; Sleater-Kinney, Sept. 18 at Douglas Park, Riot Fest; Those Darlins, Jan. 27 at Empty Bottle; Shonen Knife, Oct. 17 at LiveWire; The Orwells, March 9 at Emporium; Jake Bugg, Sept. 18 at Douglas Park, Riot Fest; Ice-T - Aug. 5 at Hollywood Casino Amphitheatre; Kurtis Blow, Aug. 5 at Hollywood Casino Amphitheatre; Of Monsters and Men, June 12 at Hollywood Casino Amphitheatre; The Handcuffs - May 27 at Reggie's; Amy Rigby, Oct. 30 at Reckless Records; Sincere Engineer, April 29 at Liar's Club; Bleached, Sept. 18 at Douglas Park, Riot Fest.