Top Concerts of 2015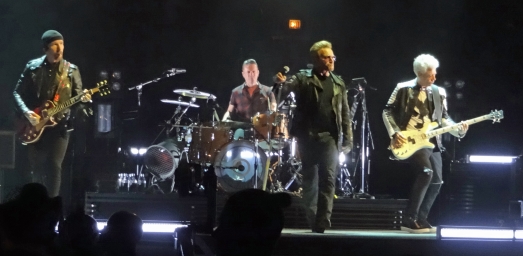 U2  
June 29, 2015 @ United Center  

By Dave Miller
This past year brought one great performance after another. They were a needed tonic for all the bad stuff going down elsewhere from the idiocy spewed by the Republican presidential field to the ongoing assault by police on black lives. Art can reflect society, but it can also provide a refuge. I saw 42 full sets in 2015. Here is my ranking of the best:
1. U2, June 29 at United Center - The rejuvenated Irish rockers find inspiration in their roots and deliver a performance that uses innovative technology to great effect while keeping the focus on the heart.
2. Willie Nile, Nov. 6 at FitzGerald's - The veteran rocker from New York City continues to ride a sweet spot in his career, trying his best to blow the roof of the Berwyn club with the help of his band that's with him every step of the way.
3. Iggy Pop, Sept. 12 at Riot Fest - Making no concession to age, the sinewy 68-year-old stalks, writhes and flies around the stage like he's the best frontman in rock history.
4. Against Me!, Sept. 11 at Riot Fest - Laura Jane Grace's open and honest lyrics bring tears to the eyes in a triumph of personal identity as her band never stops to take a breath.
5. AC/DC, Sept. 15 at Wrigley Field - Guitar god Angus Young and the boys make decades-old songs sound as ass-kicking as ever.
6. Katrina Leskanich, April 2 at Reggie's Music Joint - In the surprise of the year, Leskanich of Katrina-and-the-Waves fame brings a rocking band to town and fronts it with urgency and hard-won defiance.
7. Cathy Richardson Band, May 22 at City Winery - The supreme singer and performer tops herself by following a stellar main set with an all-timer encore: A cowbell medley that concludes with her shooting fire out of her fingertips to set her bell ablaze.
8. Sleater-Kinney, Feb. 17 at Riviera Theatre - A reunion rarity, new material that rivals the group's best and a show that roars and soars.
9. Grace Potter, Oct. 23 at Chicago Theatre - The whirlwind shines in the spotlight like a star, singing, dancing and playing guitar and keyboards with supernova talent and energy.  
10. The Joy Formidable, Sept. 12 at Riot Fest - The likable Welsh trio unleashes a guitar flurry sweetened by Ritzy Bryan's melodious vocals and commanding stage presence.
Honorable mention (in order): Buddy Guy, Jan. 11 at Legends; L7, Sept. 13 at Riot Fest; The Orwells, June 14 @ Ribfest Chicago; Ice Cube, Sept. 11 at Riot Fest; Those Darlins, April 23 @ The Hideout; Barb Wire Dolls, Sept. 11 at Riot Fest; Waco Brothers, July 3 at FitzGerald's American Music Festival; The Handcuffs, July 31 at Liar's Club; Michelle Malone, July 3 at FitzGerald's American Music Festival; and Alabama Shakes - March 14 at Chicago Theatre.