Top 10 Concerts of 2009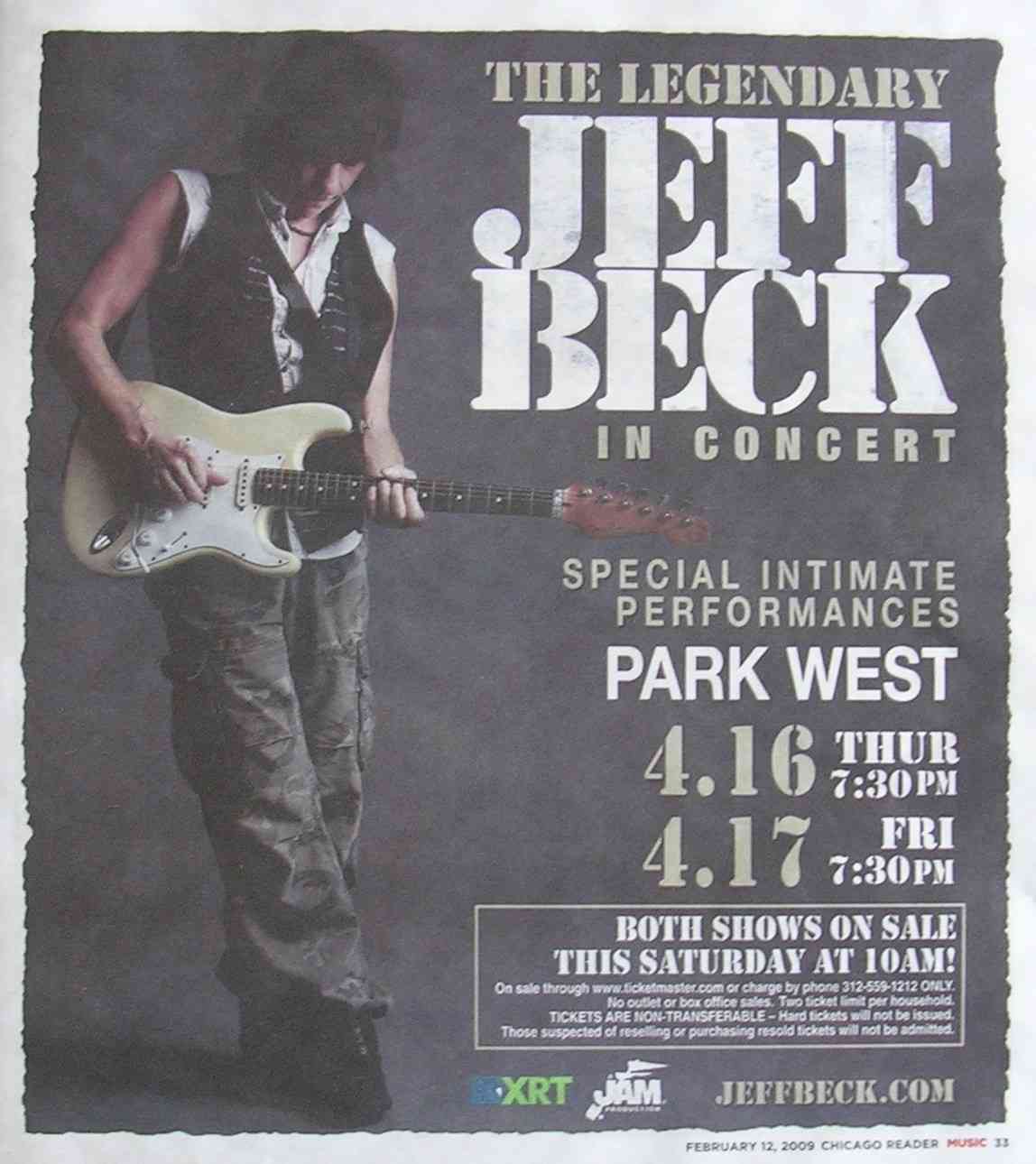 By Dave Miller
It's impossible to put together a definitive list of top concerts. Even if you attended a show every night of the year you'd still only see a tiny fraction of the concerts that are played in the Chicago area.
Yet I was able to see enough great concerts that I feel I can put together a good list. Personally, it was the greatest year for concerts. One of the few benefits about being unemployed is you have time to see a lot of shows. Thanks to the fact that running this site is not a real job, I can go to only shows that I want to see. I saw 29 in all, and didn't see a bad one in the bunch. Even Motley Crue, which I saw thanks to a last-minute free ticket from a friend, wasn't bad. The only show that disappointed me was Kasim Sulton and that was because the ace of bass played only guitar. Even then, I could appreciate a backing musician stepping into the spotlight to front his own band.
Here's my Top 10:
1. Jeff Beck, April 16 at Park West - A triumphant performance by the greatest guitarist in the world celebrating his Rock and Roll Hall of Fame induction. One of the best concerts I've seen in my life.
2. Bruce Springsteen and the E Street Band, November 15 at Bradley Center - An audible of "Badlands" for the second song of the night signals this will be a special show even by The Boss' standards. He plays five requests on the spot, and even crowd surfs.
3. AC/DC, August 14 at United Center - Hard rock at its most basic and best. Angus Young enters a guitar zone and stays there.
4. Alejandro Escovedo, April 8 at Schubas - Mesmerizing musicianship. Escovedo, violinst Susan Voelz and guitarist David Pulkingham play like an orchestra.
5. Lucinda Williams, October 15 at Park West - The last show of a three-night stand sees Wililams in peak form, and in unusual story-telling mode.
6. The Jesus Lizard, November 27 at Metro - The take-no-prisoners outfit adds to its reputation as a legendary live act. Crazed, crowd-surfing frontman David Yow crashes to the floor in the second encore and leaves Metro in an ambulance with injured ribs.
7. U2, September 13 at Soldier Field - What can overshadow Bono? Try the biggest stage in the history of rock tours. A thrilling, multi-media spectacle.
8. Bob Dylan, October 13 at Aragon - The return of guitarist Charlie Sexton brings the spark back to Dylan's stage. Dylan sings strongly and is unusually playful, announcing special guests "Tom Waits" and "Willie Nelson" during the Halloween show.
9. Fleetwood Mac, March 6 at Allstate Arena - The Macsters minus Christine McVie sound surprisingly fresh. Lindsey Buckingham is a guitar monster.
10. Cathy Richardson and her San Fran Band with Anne, May 9 at FitzGerald's - A homecoming of sorts for Richardson. She moves from San Francisco back to Chicago with her singing and stage presence better than ever, raised by her perfect foil, fiddler Anne Harris.
Honorable mention (in order): Otis Clay, March 21 at FitzGerald's; Joe Ely Band, July 1 at FitzGerald's; Shemekia Copeland, July 3 at FitzGerald's; Green Day, July 13 at Allstate Arena; Buddy Guy, January 11 at Legends; Wilco, October 18 at UIC Pavilion; The Swell Season, December 3 at Auditorium Theatre; The Pretenders, February 15 at Riviera Theatre; Lynyrd Skynyrd, November 5 at Grainger Studio.