Concert Review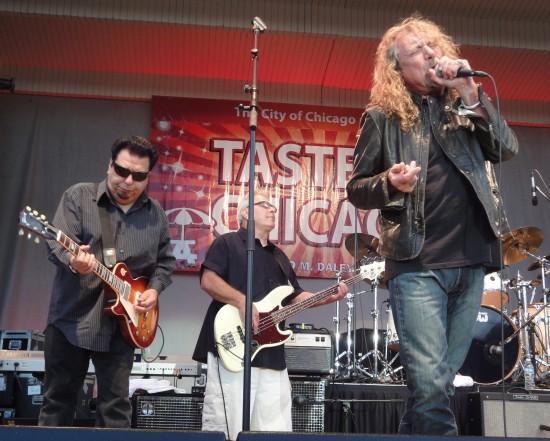 Los Lobos with Robert Plant
Zo
Los Lonely Boys

ZoBy Dave Miller

Fans apparently weren't the only ones inspired by the Crossroads Guitar Festival.

Cesar Rosas and David Hidalgo of Los Lobos must have been, too. The pair played with Derek Trucks, Susan Tedeschi, Warren Haynes and Johnny Winter at Eric Clapton's guitar festival this past weekend at Toyota Park. The all-day concert featured a bill full of all-star collaborations, and Rosas and Hidalgo brought that concept with them for their band's headlining show at Taste of Chicago on Tuesday night.

Ironically, it initially appeared that Los Lobos might be suffering a Crossroads letdown. It took awhile for the show to come alive. The band brought out Buddy Guy's keyboard player, Marty Sammon, for a couple songs and his playing lit the show's fuse. The energy continued to rise when guitarist Henry Garza and drummer Ringo Garza from opening band Los Lonely Boys took the stage and increased the fun quotient. A set-closing "La Bamba" had the crowd demanding an encore.

Nobody could have guessed what came next.

After a longer delay than usual, Los Lobos returned to the stage and brought out their fourth special guest of the night – none other than Robert Plant. Talk about a cleanup hitter! And what a complete surprise. Plant's presence threw Grant Park up for grabs. "Okay, strictly without a rehearsal, let's try this out," Plant said. There was no need for the bit-of-a-disclaimer. They tore up Roy Head and The Traits' "Treat Her Right." Plant eventually moaned and wailed and improvised, tossing in a couple lines from Led Zeppelin's "D'yer Mak'er" and name checking Chicago to the roar of the crowd. He looked good in a black t-shirt and leather jacket with his blonde mane flying around his face, and his well-rested voice sounded even better. (While Plant's appearance couldn't possibly have been predicted, there was actually a tie-in. Los Lobos' "Angel Dance" is the leadoff track on Plant's upcoming Back of Joy album, which is set for a September release.)

Plant appeared suddenly and then poof! He and the band were gone. It seemed like a dream, but the buzz that continued as fans filed out of the venue was proof the rock-and-roll legend had just rocked the Petrillo Music Shell, of all places.

Los Lobos knows how to rock, too, their modest start to the night notwithstanding. The first nod to Ritchie Valens, "Come On, Let's Go," served as an early treat before "Bottle Up" perked up the set. "I Walk Alone" found a deep groove, and the band started to cook. "The Neighborhood" took a turn down a jazzy road thanks to Sammon's keyboards and Steve Berlin's saxophone.

The band spent the day in Little Village and Hidalgo sent out a dedication to the neighborhood. He played accordian on a couple songs sung in Spanish including "Soy Mexico Americano," which turned out to be real crowd pleasers. "I Got Loaded" continued the party atmosphere. That set up "La Bamba" on which Rosas graciously allowed Henry Garza to take the solo before Rosas responded, showing the Crossroads spirit was still going strong. Hidalgo took the song into the Rascals' "Good Lovin'" before swinging it back to "La Bamba."

Los Lobos has been playing tough music with no pretense since forming in East Los Angeles in 1983. Plant's appearance was one for their books. The people lucky enough to witness it will be talking about it for years.

Los Lonely Boys showed themselves to be made for summer festivals during their lively opening set. The three brothers from Texas looked thrilled to be onstage and exuded a lot of energy. The crowd responded in kind. It seemed like a good chunk of concertgoers came to see them.

Guitarist Henry Garza is a nifty player who devoted himself to his instrument through most of the show. Bassist Jojo Garza not only is a good player, but he makes a great connection with the crowd as he moves all over the stage. The two often played off each other, while drummer Ringo Garza injected his share of the power into the proceedings.
X