Concert Review
Katrina Leskanich
April 2, 2015 @ Reggie's Music Joint
By Dave Miller
You're heard her sing, but probably not like this.
At least I hadn't, until she made my jaw drop during a mind-blowing performance I never saw coming Thursday night at Reggie's Music Joint. I went to the South Loop club to see my favorite Chicago band, The Handcuffs. I figured the fact that Katrina Leskanich was headlining would be a little bonus -- out of curiosity more than anything.
If the name Leskanich doesn't ring a bell, it's understandable. You know her simply as Katrina going back to the days when MTV was populated by people known by one name like Madonna and Prince, Michael and Bruce. Katrina and the Waves hit the charts internationally with "Walking on Sunshine" in 1985.
It's not like Leskanich hasn't done anything since then. She's played radio DJ, performed in music theater and continued making music, but the London resident's profile has been practically non-existent in the United States. She hadn't toured here since Katrina and the Waves broke up in the late '90s -- until last year when she was part of the Retro Future Tour with Tom Bailey of the Thompson Twins, Howard Jones and Midge Ure. Inspired by those acts having new music to play, Leskanich wrote new music herself. Her new album, Blisland, is her first in 10 years. This is her first solo tour, which was in the American home stretch when it pulled into Chicago to play the cozy venue.
"It's been awhile since we worked up a sweat in a club," Leskanich said as she dabbed her face with napkins. She didn't expect it to be so warm and joked that it was because the audience was hot. She could have said the same for her band -- a crack outfit that was introduced simply as "the New York band." It featured a pair of ex-Blackhearts, bassist Sean Koos and guitarist Jimi K Bones, along with drummer Kevin Tooley. Together, they injected a black leather toughness into Leskanich's material, playing with attitude and aggression.
Leskanich was nothing less than a revelation. Sporting spunky red hair and still recognizable from the videos of her heyday, Leskanich commanded the stage with purposeful authority, guitar in hand, in fantastic voice. Her song "Red Wine and Whiskey" doubled as an apt description of her voice, which contained the sweetness and richness of the former with the edge and kick of the latter. In short, it was a rock-and-roll voice.
And that was the most surprising thing about Leskanich. She was not merely the bouncy pop star of 30 years ago, but the deliverer of a no-nonsense set that seriously rocked. The opening song, "Rock n' Roll Girl," made that clear from the start, and she and the band never strayed from the mission. "Going Down to Liverpool' reclaimed the song The Bangles covered. The new "Texas Cloud," a monstrous blue stomp capped by high noon whistling, was a highlight. Near the end of the set, "Lovely Lindsey" saw Leskanich standing at the edge of the stage, head back and eyes closed, playing a long burn on guitar. She followed by playing guitar hero on "Watch Dog."
It was no small irony that in Leskanich's first headlining show here since touring with the Waves that she remained relatively in the dark during the performance. With Koos and Bones bookending her in white spotlights, center stage was bathed in dark red lighting.
"Who arranged the lights in this place, or did they say it's for a 55-year-old singer?" Leskanich cracked.
Leskanich confided the band almost didn't make it to Chicago, saying she was told only four people bought tickets. The modest but enthusiastic crowd that turned out for the show numbered shy of 100, but helped elevate a performance to remember. Before the final song, Leskanich gave a middle finger to the messenger and launched into her big hit from 30 years ago with lean urgency.
"I used to think maybe you loved me, now, baby I'm sure," Leskanich sang with a hard-won smile. "And I just can't wait 'til the day when you knock on my door."
These days, it's Leskanich who's knocking on the door to be heard again in the United States, and this much is clear: She returned to rock.
Katrina Leskanich setlist:
Rock n' Roll Girl
Red Wine and Whisky
Going Down to Liverpool
That's the Way
Sun Coming Upper
Texas Cloud
Walking Where the Roses Grow
Do You Want Crying
Lovely Lindsey
Watch Dog
Walking on Sunshine
Start: 10:44 p.m./Finish: 11:47 p.m.
Totals: 11 songs, one hour three minutes
In a week where the Indiana "religious freedom" law that made it legal to discriminate sparked an avalanche of criticism, The Handcuffs made it clear where they stand on the issue by opening with 'God is Sure One Funny Girl." "Now baby won't mind if you're straight or gay," Chloe F. Orwell sang in the T-Rex glam of a song. If there was any doubt about the opener, the next two songs, "I Just Wanna Be Free, Man" and the the new "Big Fat Mouth Shut," confirmed it. Heck, if you were in the mood and predisposed, you could view most of their set as the band's take on the matter.
It's easy to see why rock-and-rollers love The Handcuffs. They owned the stage. Lead guitarist Susie Q never sounded better and the same could be said of The Handcuffs. As usual, they made everyone in the place of fan of their big beats, hook-laden songs and personality to spare by the end of their performance. A handful of new tunes sat nicely next to the rest in the set, boding well for their upcoming fourth album.
The Handcuffs setlist:
God is Sure One Funny Girl
I Just Wanna Be Free, Man
Big Fat Mouth Shut
Miss You on Tuesday
Love Me While You Can
Dancing with the Dandies
First Class Bossa Nova
Fluffer
Gotta' Problem with Me?
Jet Baby
Start: 9:32 p.m./Finish: 10:13 p.m.
Totals: 10 songs, 41 minutes
The Injured Parties started the night with a modestly presented, but uncommonly tuneful and catchy set of driving power pop from the garage.
Photos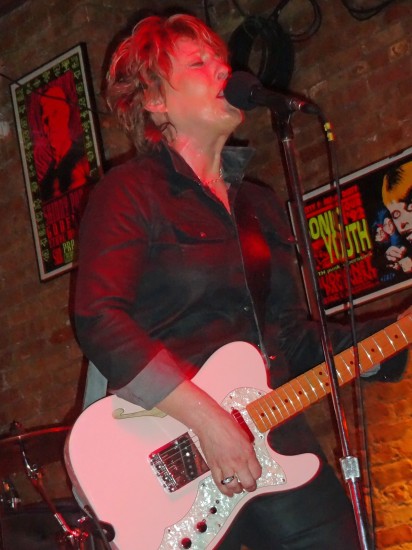 Katrina Leskanich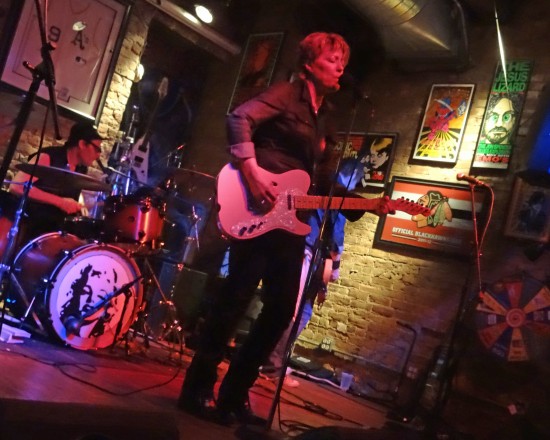 Katrina Leskanich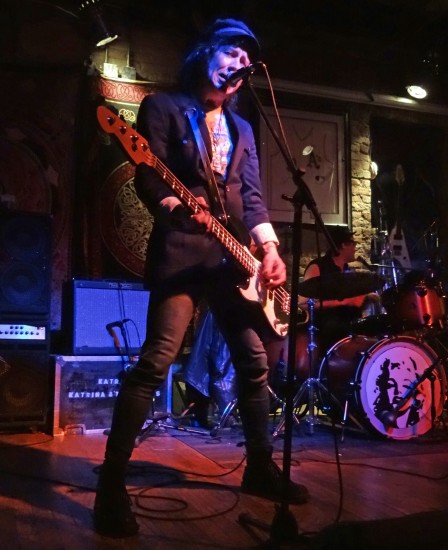 Sean Koos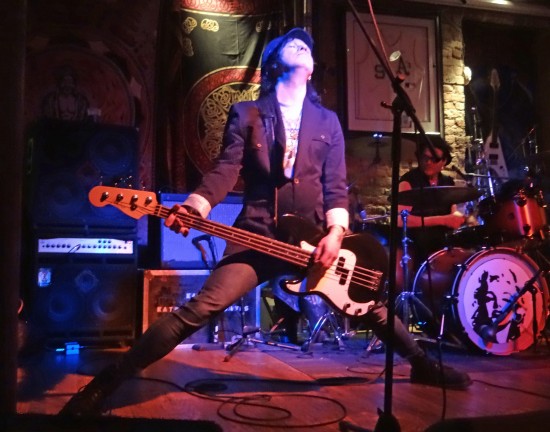 Sean Koos
Katrina Leskanich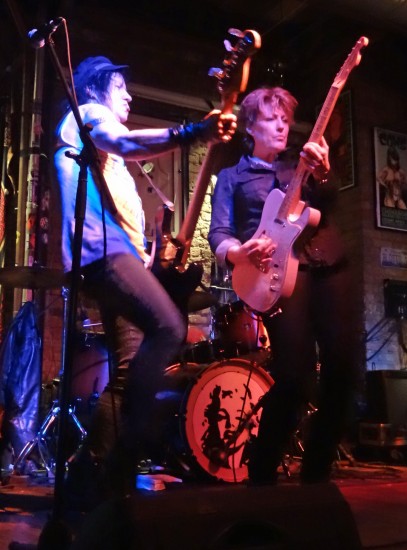 Katrina Leskanich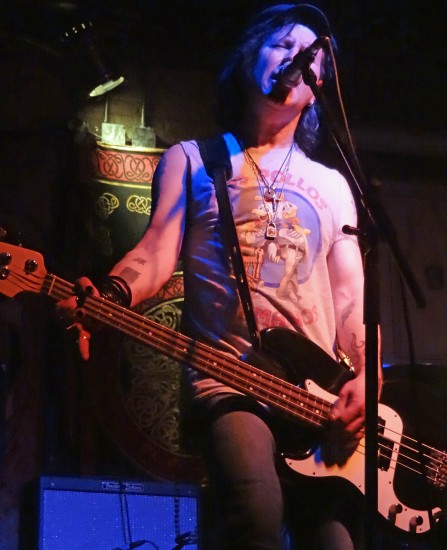 Sean Koos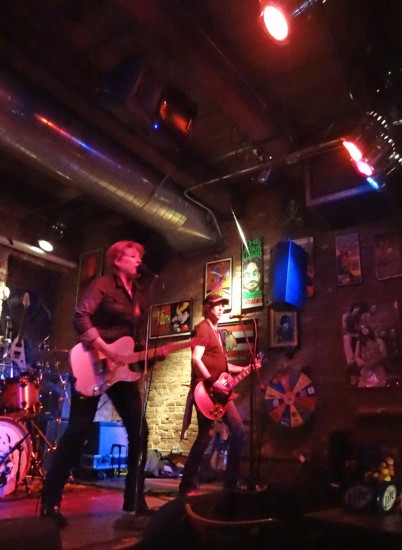 Katrina Leskanich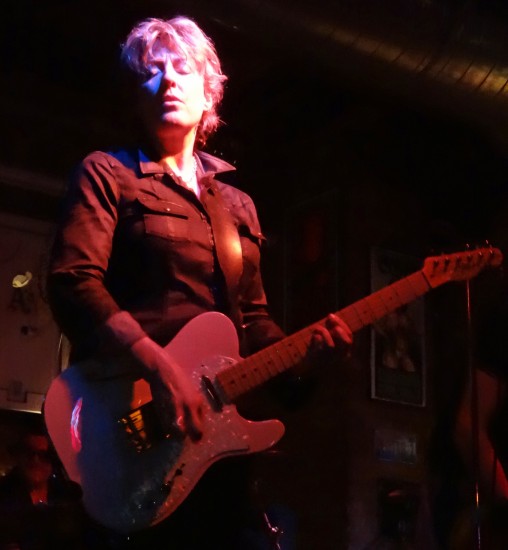 Katrina Leskanich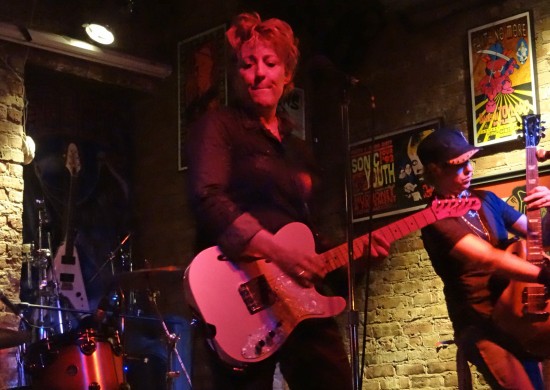 Katrina Leskanich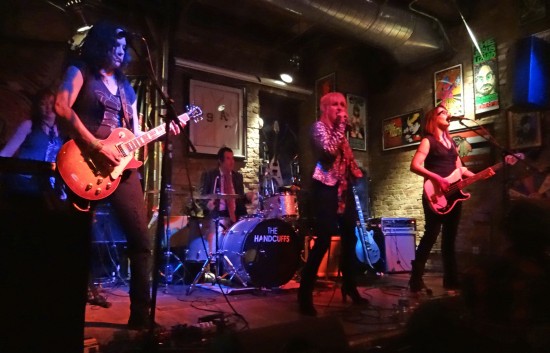 The Handcuffs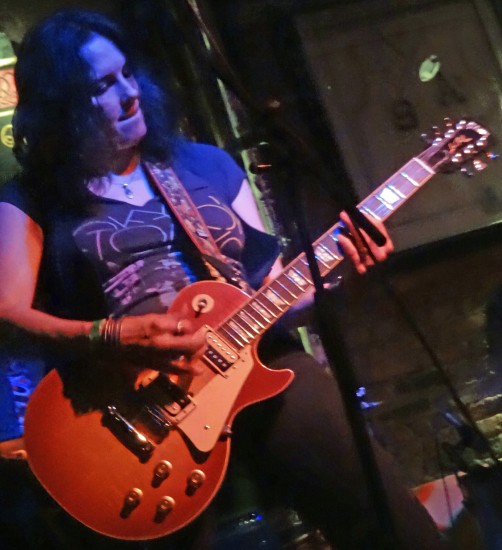 The Handcuffs' Susie Q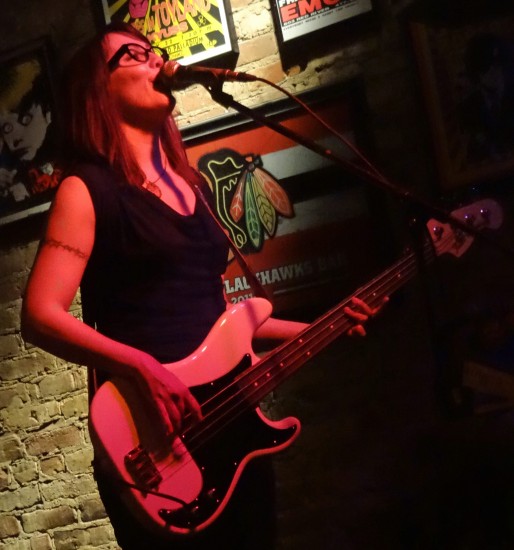 The Handcuffs' Emily Togni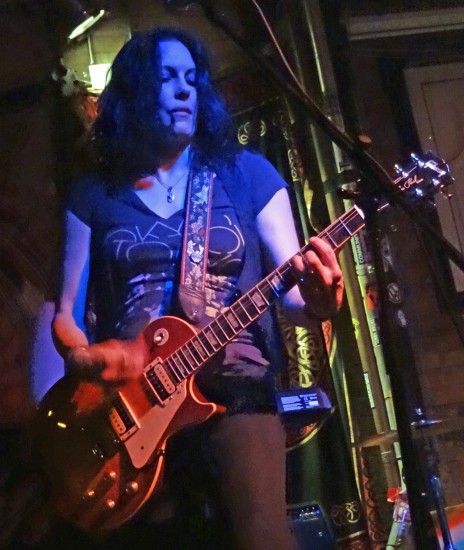 The Handcuffs' Susie Q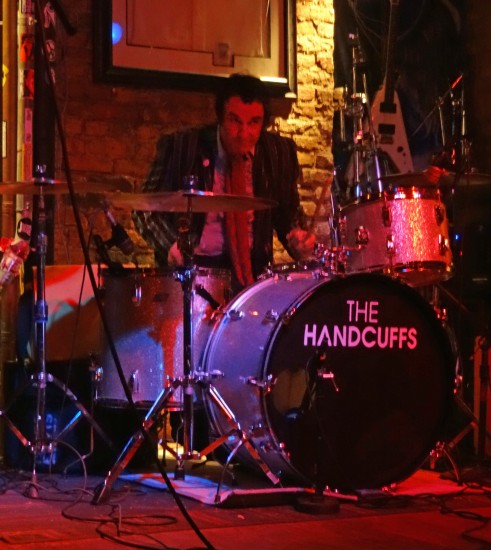 The Handcuffs' Brad Elvis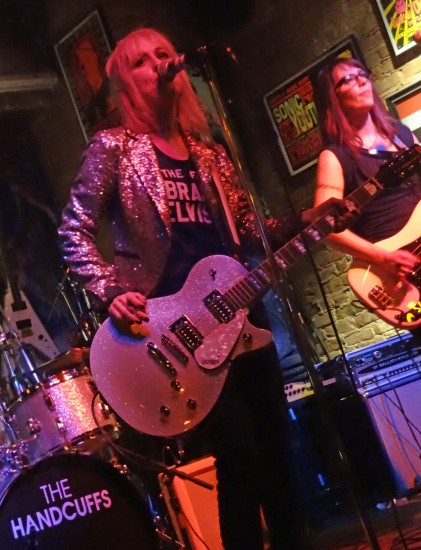 The Handcuffs' Chloe F. Orwell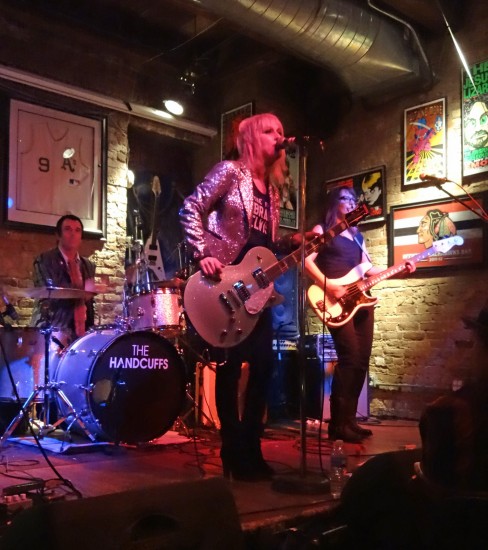 The Handcuffs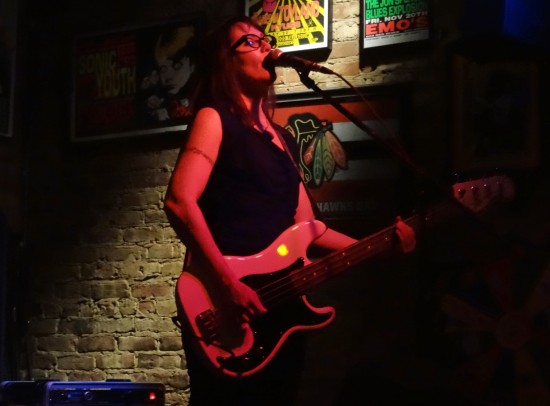 The Handcuffs' Emily Togni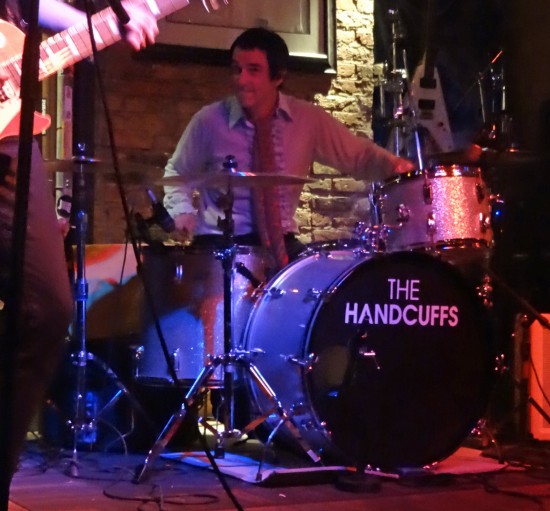 The Handcuffs' Brad Elvis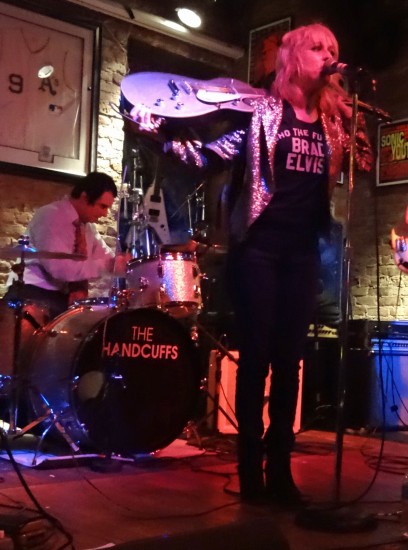 The Handcuffs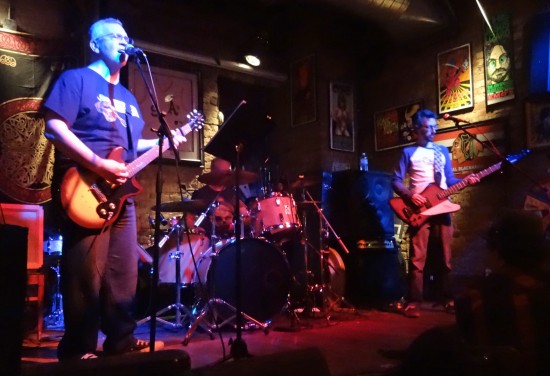 The Injured Parties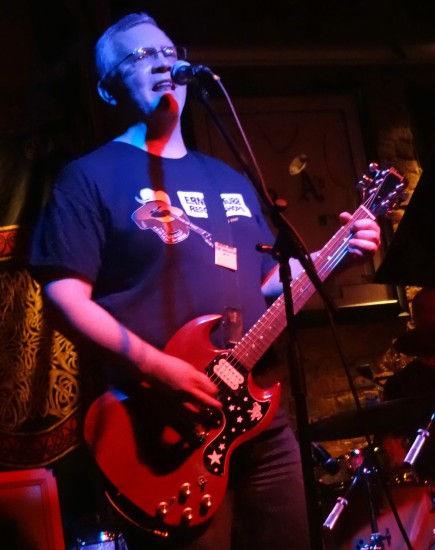 The Injured Parties' Larry O. Dean