Concert Review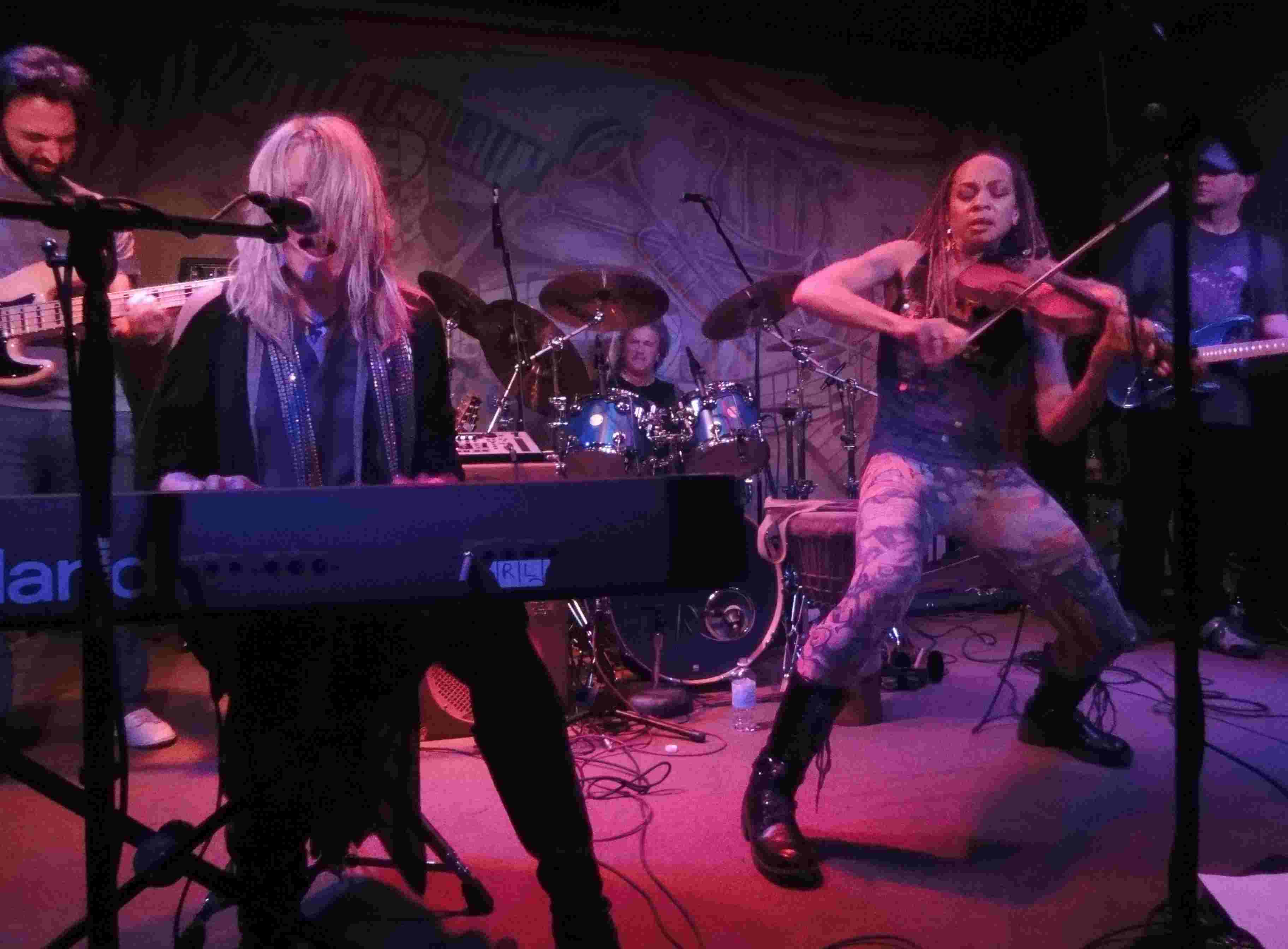 Cathy Richardson and Her San Fran Band with Anne
January 29, 2010 @ FitzGerald's
By Dave Miller
Cathy Richardson took the stage, plugged in and asked, "Are you ready?" A jacked Friday night FitzGerald's crowd answered in the affirmative, but the rock gods apparently were not. Let's see, one of her guitars could not find juice, a soundman asleep at the switch didn't turn her mic on for a song and a first-time "roadie" (her nephew, Wesley) had all kinds of trouble retrieving her iPod from her jacket backstage. Such shenanigans by the rock gods would have derailed most musicians.
But Richardson is no mere mortal. She caught Fulgora's bolts bare-handed and fired them back at the goddess of lightning. There was no stopping Richardson and her San Fran Band with Anne Harris at the Berwyn roadhouse. The potential problems proved to be mere asterisks to a powerhouse show.
For my money, Richardson is the best singer in the city and, when she's at her best, in rock today. Her time served singing Janis Joplin songs in the bio-musical "Love, Janis" has clearly made her strong voice even stronger. Freedom is just another word for not holding back. I've always found Richardson to be a free presence on stage. In the past, that's been more of an outward projection. Now she's digging deeper inwardly, too, with her vocals. She's going where few venture in that regard. It's captivating and liberating to watch.
No doubt in part to fronting Jefferson Starship these days, Richardson is rightfully feeling confident. She opened with two new songs, "Rock and Roll Part Two" and "Piece of Me." Both will be on a forthcoming album caled The Other Side by The Macrodots, a project of Richardson's with San Francisco guitarist, producer and songwriter Zach Smith. Not many musicians can get away with opening with two new songs from an unreleased album, but the newbies worked in their lofty position. Richardson played a handful of songs from the album and those two rocking numbers were the best of the bunch.
Richardson's band served her well. Jefferson Starship drummer Donny Baldwin matched the strength of the singer's voice and injected arena power into the club. Guest fiddler Anne Harris created sparks with her playing, singing and dancing. Guitarist Jude Gold fed off the spirit onstage, even at one point holding his guitar over the crowd to allow fans to strum. Bassist Jon Herrera helped keep things in order by reading from his notes on a music stand.
Highlights were many on the night - Richardson even sat behind a keyboard for a couple songs - but two stuck out from the rest. During a psychedelic stretch in mid-show, the band was winding down "Fly" and Baldwin was making his last few hits on the drums. But Richardson told him to pick it back up, and she morphed the song into "Over the Rainbow," then returned to "Fly" and a monster closing jam. It was an epic performance. Late in the set when Richardson tried unsuccessfully to find juice for a guitar she wanted to play, she returned to her black Ovation and barrelled through a fiery version of "Berwyn" complete with a rave-out jam at the end where she burned off her frustration in exhilirating fashion.
Richardson's career has traveled through the songs of Janis Joplin and Grace Slick. Now she's on the precipice of becoming a rock goddess herself.
The setlist:
Rock and Roll Part Two
Piece of me
Over Your Shoulder
Saturday
I've Changed
This Town
If I Could
Beautiful Girl
Good
Wesley
Miracle
impromptu birthday song done to Kashmir
Fly/Over the Rainbow
Tiny Particles
Closet Cultivator
G.O.D.
Ain't No Home
Making a List
Cadillac Woman
I Can't Forgive You
Berwyn
Bad Example
----------------
White Rabbit
Start: 10:51 p.m./Finish: 1:11 a.m.
Totals: 24 songs/2 hours and 20 minutes