Concert Review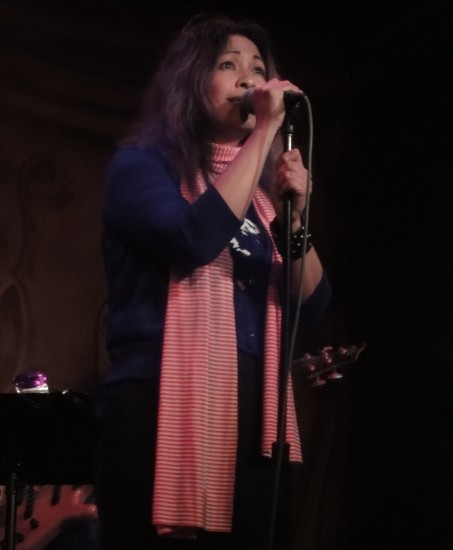 Anna Fermin
By Dave Miller
It had been more than 10 years since I saw Anna Fermin so I was long overdue to see the talented local singer-songwriter again. The final of her three rehearsal shows in February at FitzGerald's presented an opportunity to do so.
I knew I was in good hands from the start of Tuesday's show. Fermin made time stand still with how she vocally stayed in the pocket of the opening song, "Lovely." She began in the sweet spot and comfortably stayed there, relaxingly and confidently moving through the song perfectly in sync with her five-piece band.
Fermin played songs from a pair of EPs to be released this month. It's her first new material in five years. Fermin traveled the Americana route with her Trigger Gospel band in ths past. This performance featured some of those roots, but she ditched her acoustic guitar and concentrated on singing while also blending rock, pop and even jazz in a cohesive presentation.
Fermin is an artistically mature singer. The songwriter serves the song -- as opposed to the many singers on the charts who use a song to show off. It's embarrassing to hear so many young singers, and some older ones, too, so desperate for the spotlight that they thrust their voice at you at the expense of all else. Fermin knows the most effective singing communicates the emotion and heart of a song. Her vocals fit like the final piece of a puzzle.
When I first saw Fermin so many years ago, she was wonderful, but I must admit that, while not bad, her band, at least on that night, was not up to her talent. That was not the case here. In fact, each of the five musicians onstage elevated the performance and provided a fitting frame for Fermin. Guitarist Grant Tye was the ringer. Formerly of Cathy Richardson's band and currently in Van Ghost, Tye's playing was impeccably on the mark and in tune with Fermin's vocal approach. Keyboardist Alton Smith was the most valuable player not only because of his playing but his considerable backing vocal contributions, too. Jay O'Rouke contributed a complimentary tone and spirit with his acoustic guitar. You couldn't tell by their playing, but drummer Tony Dale and bassist Steven Nevets were filling in for Fermin's regular rhythm section. Their light funk touch kept the proceedings percolating.
It was a chance to get a glimpse into a band rehearsal. Toward the end of "The Contender," the title track of one of her EPs, Fermin motioned for the band to keep going, extending the song to another level. In the middle of the set, Fermin took a short break for tea to soothe her throat, which she kept warm with a scarf. But the performance also contained some moments designed to play to the crowd. Fermin beautifully held the last note of "What Could Be," and the transition from "Worthwhile" into "Everything Changes" featured a dramatic keyboard interlude. Everybody jelled on "Always Been You" to end the first set. The start of the second set saw Fermin pay homage to the first band she saw as a teenager at a 1980s show at the Riviera with a cover of Erasure's "A Little Respect," which detoured into The Police's "Every Breath You Take." Fermin's black t-shirt featuring a picture of Roger Waters provided a further look into her influences.
Even though the night was billed as a rehearsal, a healthy crowd came to the Berwyn roadhouse to hear Fermin. Her fans didn't let her off easily. After an hour-long performance came to a planned end, they demanded an encore, and eventually got it. After much debate with Smith and the audience about what to play, Fermin settled on one of her older songs, "She." Only Smith's keyboards accompanied her at first before the rest of the band ambled back onstage and joined in. It was quite the close, rehearsal or not.
The setlist:
X
Lovely
The Contender
What It Could Be
Tell Me What You Know
Love Blooms
Worthwhile
Everything Changes
Dragging On
-------------------------- 
Always Been You
Little Respect/Every Breath You Take
Somebody Afternoon
Everyday Heroes
Because A Fire Was In Her Head
------------------------------------------------
She
X
First set start: 8:36 p.m./Finish: 9:18 p.m.; Second set start: 9:31 p.m./Finish: 9:56 p.m.
Totals: 15 songs, one hour seven minutes
X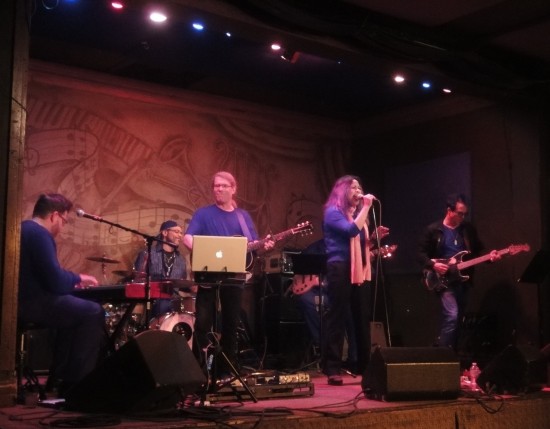 Anna Fermin
X

Anna Fermin

Zo  

Anna Fermin

Z

 

Anna Fermin

Zo 

 

Anna Fermin

Z

 

Anna Fermin

Zo 

 

Anna Fermin

Anna Fermin

X

Anna Fermin

X

Anna Fermin

Anna Fermin

X

Anna Fermin

X

Anna Fermin

X

Anna Fermin

X

Grant Tye X

Anna Fermin

X

Anna Fermin

Anna Fermin

X

Anna Fermin

X

Anna Fermin

X

Anna Fermin

 

Anna Fermin

Anna Fermin

X

Go here to "Like" ChicagoConcertgoers.com on Facebook.

X
X